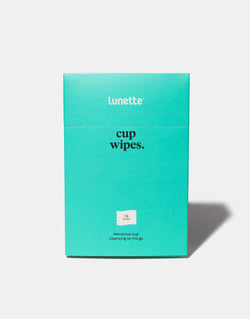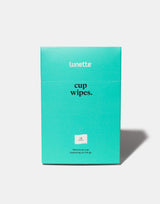 Lunette Cupwipes are your cleanser on the go when water is not an option. Road trips, Airplane bathrooms, festival porta-potties or just your office bathroom stall- you're totally covered. Our feminine cup wipes eliminate nearly all germs, and enable you to use your cup safely.
Totally portable- the box contains 10 individually wrapped feminine wipes which are easy to stash in your back pocket or purse.
The wipes are made of eco-friendly viscose plus alcohol and water, and are biodegradable and compostable. Disinfect your cup easily and discreetly.
Fragrance-free and irritant-free, the natural companion to your Lunette menstrual cup.
During the packaging renewal you may receive either one of the the trusted Lunette Cup wipes packaging layouts. The cleaning power punch remains the same!