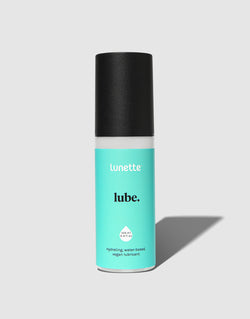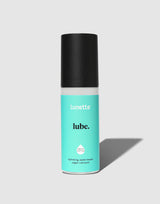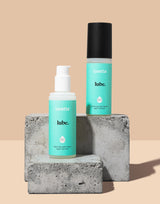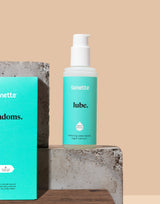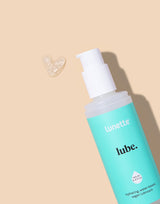 Looking for a simple, vegan and lightweight lubricant that will help you slide into pleasure, whilst being gentle on your most intimate areas? We've got you covered. 
Our lubricant is created with both your pleasure and body in mind. The unique water-based, low-pH and low osmolality formula keeps your vulva hydrated and happy - in more ways than one - and with no sticky residue, the only thing this lube will leave behind is mind-blowing memories. 
How to use a lubricant?
Honestly, however, you like it! Apply a small amount of lubricant wherever you want heightened sexual sensation - whether you're indulging in partner play or riding solo. It's totally safe to use with toys and condoms, so the world is your orgasmic oyster. But, bear in mind, this is a lightweight lube, so might not be up to everything you enjoy in the bedroom.  
What's in the Lube?
A lot of water. You know we like things simple, and the totally unique formula of this lube is no different. Being water-based - with low pH and low osmolality - it won't dry you out like other lubricants. It also features other natural ingredients that are kind to your skin, like xantham gum - nature's lubricant! - sodium lactate, lactic acid and sodium benzoate. 
Slide into pleasure
Made in Finland
Can be used with condoms
pH & osmolality optimized for the intimate area
No hormones
No glycerin, potassium sorbate or silicones
Fragrance free
Vegan
TSA friendly
100 ml/3.4 fl oz
Packaging: Tube: HDPE -02 plastic Cap: PP -05 plastic
Ingredients: Aqua, Xanthan Gum, Lactic Acid, Sodium Hydroxide, Sodium Benzoate